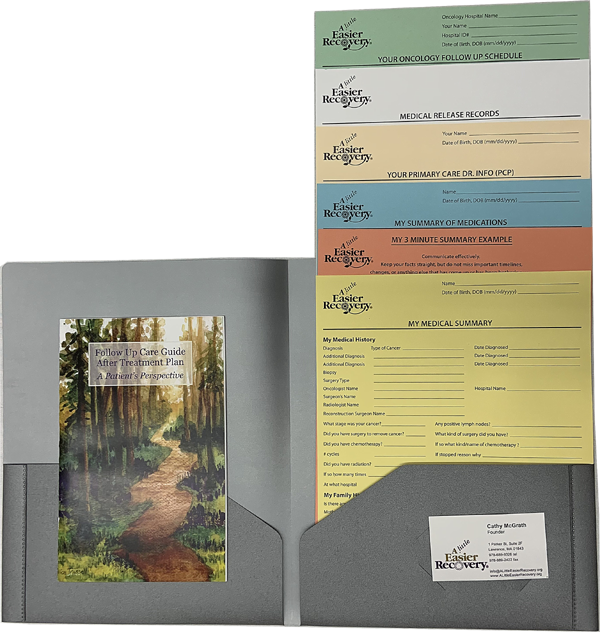 What People Are Saying
"This is great! Love the booklet."

Anne McManus, NP MS AOCN
Faulkner Hospital
Boston, Mass.

"Your Follow Up Care Guide After Treatment Plan has proven to be a wonderful resource and information source for our patients. The insight provided from a patient's perspective is both an informative and accurate guideline for those moving from their initial diagnosis through their treatment plan."

Jeanne A. Quaranto, RN, CBCN
Steward St. Elizabeth's Medical Center
Center for Breast Care
Boston, Mass.
In 2006, the Institute of Medicine (IOM) published Cancer Patient to Cancer Survivor: Lost in Transition. However, from a patient's perspective we believe it is more like lost in translation. We were asked to come up with a clear, concise, simple educational tool that bridged the patient's medical information to patient friendly worksheets that you would easily understand and further communicate to your PCP and other specialists (like neurology) you may need to see post treatment.
We took hundreds of pages and brought them down to the simplest form, a 'cliff notes' of resources that speak frankly, including a new approach actually telling the patient/survivor why. Why compliance is essential to your health and why you need to communicate effectively.
Read more...

It teaches you to take the medical follow up care sheets and "translate" them into something you can communicate comfortably. It teaches how to summarize your past treatment and timeline into an 'elevator pitch' so that you eliminate the back stories and streamline your relevant medical history and pertinent timeline. It also teaches you to speak up and to explain what is bothering you now, primary issues-what brought you in today and secondary-long term issues like pain, anxiety, sleepless nights, that you also want to address.

This initiative will allow the patient to transition "easier", filling in a key piece of the puzzle, allowing them to self-advocate from a whole new level resulting in the best care ahead. By teaching how to succinctly communicate and why compliance and follow-up is critical…everyone wins.

The Follow-Up Care was piloted with 15 oncology centers we work with. The response was overwhelmingly positive – all the nurses loved it.
Follow Up Care Forms Included:
Oncology Follow Up Schedule
My Medical Summary
My 3 Minute Summary
My Summary of Medications
Primary Care Dr (PCP) Info
Medical Release Records
Follow Up Care Booklet Table of Contents:
Follow-up Care Guide
Communicate
Physically
Expectations
Emotional
Range of Emotions
Support Groups
Patience
Regret
Fear
PANIC!
Your Plan
Why
Medications/Drugs
Follow-up Schedules
SCANAPHOBIA
INSURANCE
Piles of Bills
Your Primary Care Physician (PCP)
Take Care of Yourself
Obvious Things to Do
Resources
About the Author